Introduction
The popularity of Apple's iPod has proven there is a huge market for portable audio, and the natural combination of the MP3 player with the cell phone seems only logical. Just as manufacturers have concentrated on camera phones in 2004, music phones are their target in 2005.

The strongest contender is the new ROKR E1 from Motorola. Designed with Apple, the ROKR E1 comes with iTunes music software that lets users drag and drop songs to the handset.

Being heavily promoted by a host of past and present music legends including Madonna, Little Richard, Alanis Morissette, Iggy Pop, Biggie Smalls, and even Beethoven (in a screen-first), Motorola and Apple hope the ROKR will capture the hearts of cell phone consumers just as the iPod did for portable audio listeners.
Design
Resembling the Motorola E398 design, the ROKR is relatively conservative compared to more recent fashion-forward Motorola devices. Packaged in an unassuming white casing, the ROKR measures and weighing just 108 x 46 x 20 mm and 107 g; roughly the size and weight as an iPod Mini.
Positioned in front, the ROKR's 176 x 220 px LCD screen is top notch, displaying a brilliant 262K colors for vivid imagery. Flanked by Menu, iTunes, and Left and Right soft keys, the 5-way directional joystick provides unmatched versatility compared to standard keypads; allowing consumers the freedom to quickly and comfortably navigate through music playlists.
On the sides, convenient soft keys give users one-touch access to Voice and Camera functionality. Through VoiceSignal technology, users can control not just calling functions, but even menu choices, all without training. Activating the 0.3-megapixel VGA camera lens located on the back, consumers can capture photos at up to 640 x 480 px in size; similar to those found on previous models.
Built-in dual speakers ensure listeners can enjoy stereo sound without headphones, but a 2.5 mm jack is nearby just in case. Adding a bit of fun, rhythm lights bring the ROKR to life; interacting with ringtones creating a unique visual effect (not operational with iTunes player).
Through a USB connection port, MP3s can be transfer from a PC. For storing files, a TransFlash memory card slot provides expandable storage up to 512 MB in size. Accessories can be attached on the bottom.
Out of the box, the Motorola ROKR E1 comes with a standard Li-Ion Battery, Travel Charger, ROKR E1 Manual and Quick Start Guide, iTunes PC software with USB cable, Removable microSD memory card, and stereo headset with 3.5 mm headset adapter.
Camera
Not much has changed in the past year with Motorola camera phones, which is not a good thing. Featuring the same 0.3-megapixel camera found on the V600 ages ago, the ROKR E1 can only take photos up to 640 x 480 px in size. Rather disappointing when other manufacturers are pushing the 2-megapixel limit and above, the ROKR's camera is only good for multimedia messaging and photo wallpapers.

In Camera Mode, the screen becomes the viewfinder, also displaying available memory and user settings. Photo quality can also be adjusted between QQVGA (160 x 120 px) and QVGA (320 x 240 px) resolutions, and the joystick controls the 4X digital zoom (Up / Down) and brightness levels (Left / Right).

Including a Flash, low-light conditions are made marginally better, while the camera mirror allows users to get into the shot. Bundled with additional camera settings include Effects, Exposure, and Self-Timer.

For times when photos aren't enough, the ROKR can record up to 30 seconds of video at 7.5 frames per second (playback at 15 fps). Supporting MPEG-4, H.263, and AMR Audio formats, sizes include Sub-QCIF 1 (88 x 72 px), Sub-QCIF 2 (128 x 96 px), and Full QCIF (176 x 144 px) resolutions.
Basic Features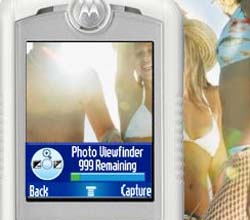 Being released for Cingular Wireless, the Motorola ROKR E1 is built on a tri-band GSM 850 / 1800 / 1900 network, allowing it to be compatible with most GSM networks in North America, Europe, and Asia, provided the phone unlocked. International models are likely to come in GSM 900 / 1800 / 1900.
Including Airplane Mode for times when wireless phone use is prohibited, travelers can still enjoy the iTunes player and other non-calling features.
Rating the ROKR's Li-Ion battery at a whopping 9.33 hours and 230 hours of phone talk and standby times respectively, Motorola also reports music time lasts for 15 hours using wired headset, up to 6 hours using surround sound.
However, those are under optimal conditions. When manufacturers and carriers list talk and standby times, they usually include disclaimers about variable performance and often refer to the times they publish as maximum times. Actual times are lower.
Screen
Delivering an impressive 262K-colors, the spacious 176 x 220 px resolution LCD is wonderfully bright and clear indoors and out. Built with advanced TFT (Thin Film Transistor) technology, refresh rates are fast and responsive. Compared to other phones on the market, the ROKR's screen is one of the best.